French manufacturer
A large part of our range of products is "made in France", in our factory based in Friville Escarbotin.
Quality organization
GRK creates and manufactures its products according to high quality process.
Various ranges of products are signed with NF label, the AFNOR label.
GRK is member of the French Pump and Valve Association for manufacturers (AFPR).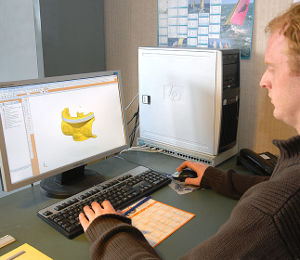 Procédés de fabrication
Guareski has a custom-designed foundry with two in-house production processes which have enabled the company to maintain customer loyalty over the years and to sign contracts with highly demanding companies.
Die-casting foundry
The first part of the foundry is the die-casting foundry, where components up to 10 kg are produced. Casting is by gravity in a metal mould, following a sand core that has been made in a "hot box" at around 300°C.
This is chere tapware is made for the construction industry, for exampple, as well as pressure reducing valves, etc…
Vacuum casting
The second part is devoted to vacuum casting, where components up to 50 kg are made. A stringent manufacturing process is conducted using vacuum suction in a metal module. The snd core here is made in a cold box.
This second part is where water meters are made for overseas customers. After the cast items have been removed from the mould, they are systematically deburred, whatever the type of casting…
Die-stamping: a well-kept secret
The die-stamping phase has contributed significantly to the reputation og Gareski products. "Billets" are cut to size from 4-meters bars, made of brass, copper or aluminium. All billets are then heated to the precise temperature determined by the choice of metal. The die-stamping, whether flat or semi-automatic presses, ranging from 150 to 600 tons. Each die-stamped billet is then carefully deburred.
Machining precision and yeld
The Guareski machining facilities are a hive of activity in which we have long undestood what makes the quality of our products.
The company has a large pool of machinery, with both semi-automatic and automatic transfer. Guareski recently reinvested in two new machining facilities,dedicated to components requiring the highest precision.